After the World Championships I found myself seeking a different sort of challenge. I wanted to push myself but also wanted a few months where the map and compass were left in the kit bag. There is a certain satisfaction about a single minded preparation for a goal race, but equally it can get tiring and boring at times. I wanted to take the opportunity to go out and race and not worry about whether I was prepared or not – just do the best I could.
So I hatched a plan. I lined up four races on four consecutive weekends and dubbed it my mini fell running season. I have done a fair bit of fell running over the past couple of years, but always fitted it around my orienteering schedule. I enjoyed doing the odd race here and there but it was always secondary. All the same there is an attractive simplicity about finding out who is the fastest to the top of a hill and back. At some stage I still want to have a crack at doing a full fell running season but these four races would have to suffice for now.
The races were two long Scottish fell races and two relay races with my club Dark Peak. The long races would be a little out of my usual comfort zone at more than two hours, but they were races that I had always wanted to do. The first of these long races was the Two Breweries race in the Scottish borders and the second was the Pentland Skyline near Edinburgh. They are both classic routes of which I had heard many stories and I wanted to test myself on them.
The first of the relay races was the Hodgson Brothers Mountain Relay – a classic in the lake district. This was the one that we as a team wanted to win. For the last nineteen editions of the race it had been won by the same club – Borrowdale. A seriously impressive run, they had proved impossible to defeat over the years. All the same, it had to happen one day and we wanted to put our strongest team together to give ourselves the best chance should that day come.
The second of the Relay races was the British Fell and Hill Relays, also known as the FRA's. In the last six years, Dark Peak's record stood at three golds, and three bronzes. I had been a member of the team on two of those occasions, one gold and one bronze. It is one of my favourite races – so much can happen to make it unpredictable.
Both relays are made up of legs with different lengths and characteristics, and some of the legs must be run in a pair – this can make selecting a team tricky and tactical. Before this year I had always run on my own, but this year I would be paired with the new British Champion Rhys Findlay-Robinson for both of the relays.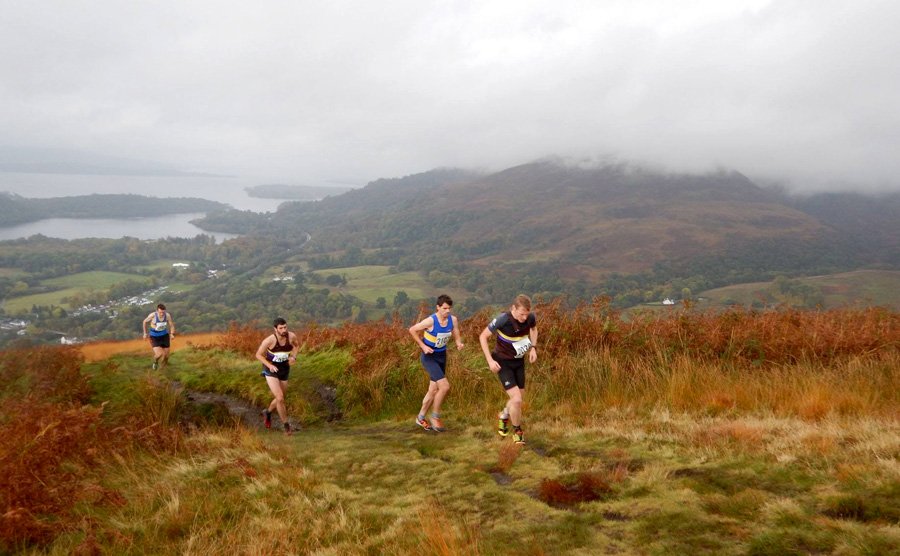 I'm not going to write detailed race reports here, I've already written a lot on my training log which I'll link to, but I am putting down my Fell Season as a success. It started with my death in a bog at the Two Breweries, but then we broke Borrowdale's stranglehold at the HBMR, I snuck under a fellow sprint orienteers' hill race record to add yellow and purple stripes to the brown of the Pentlands and finished off the season with a victory in the clag at the British Relay Champs. It has also been a success as I feel refreshed and ready to go again through the winter. I even picked up a compass last weekend to run for the winning Forth Valley team at the premier British club competition – the Compass Sport Cup. Hopefully it was good training for next weekend where I will pull on a Wales shirt at the Senior Home Internationals.